Hi Cliff,
I've been converting old desk&laptop machines to Linux for years. And It was certainly true that installing a Linux OS on an old Windows machine would always yield a faster and more nimble machine. However quite recently I've noticed problems occurring; problems that seem to arise from newer software.
You might want to check out a thread started by Corman57 on malfunctioning wifi on an old Leveno laptop. I experienced an identical problem with a different machine from the same era. A problem with no solution so far.
Furthermore, I have an old Acer aspire 7720. In its day it was a fairly powerful machine. It's usually has 2 or 3 partitions–I like to check out new distros. I also like to have a machine I can do crazy stuff with; a sort of sacrificial lamb. So it's not unusual for it to develop strange behaviors. However, I recently tried to boot it into Linux Mint 18.3 and it took about 4 minutes to boot up. Since the original installation booted in 40 seconds, I decided to play around a little to try to figure out why.
For me–and for other Linux Mint users–was to switch kernels. I was running the latest series 4.15 kernel. The reason I mention Mint is that it allows you to easily install, remove and activate different kernels. So it was easy to activate a 4.4 kernel: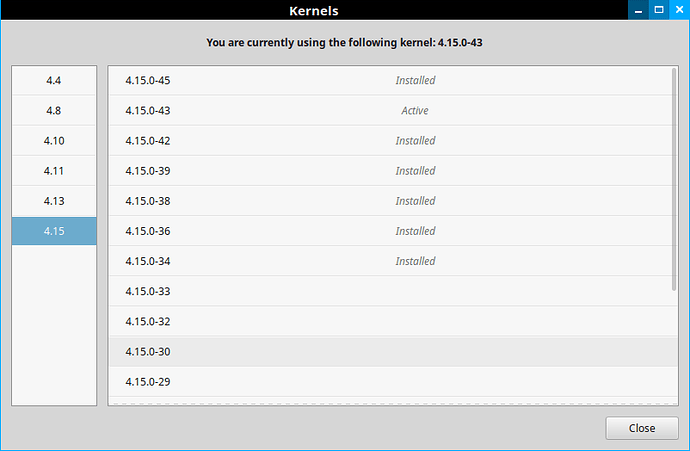 And suddenly my old Acer was a rocket ship again.
The above screen comes from Mint Update. I have no idea whether Manjaro has such flexibility. If it doesn't you might want to consider installing Grub Customizer. In a terminal paste:
sudo add-apt-repository ppa:danielrichter2007/grub-customizer , then:
sudo apt-get update , then:
sudo apt-get install grub-customizer
For full information about this app check out: https://itsfoss.com/grub-customizer-ubuntu/ But basically it allows you to choose which partition boots, and if into Linux, which Kernel you want to use. Also you can pre-define which OS you want to boot or have it automatically boot into whatever you last used.
Why this might matter to you is that every Linux installation follows the same path. Live media writes a bare-bones OS onto you drive. You re-boot. When the system's ready it will inform you there are about 500MB of updates. Among these will be the latest Kernel. Grub Customizer allows to you run the kernel your distro shipped with–usually the most stable if least exciting one.
I haven't used Linux Mint 19 yet and I know they made changes to the update system. But it 18 you can set the Update Manager to a very conservative setting which will only suggest extremely stable and well-tested kernels, firmware and so on.