Hello, I recently migrated from windows and started using Linux/Ubuntu.
Everything was going fine until I connected my notebook to a monitor/display.
Here is the config I am running:
Hardware model: SAMSUNG ELECTRONICS CO., LTD. 550XDA
Memory: 8 GB
Processor: 11th Gen Intel® Core™ i7-1165G7 @ 2.80GHz × 8
Graphics: Mesa Intel® Xe Graphics (TGL GT2)
OS: Ubuntu 22.04.1 LTS
OS Type: 64-bit
GNOME Version: 42.4
Windowing System: Wayland
As you can see the display was detected by the system: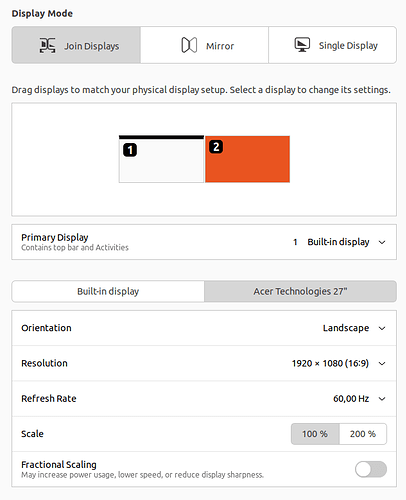 Despite this my second screen is all black. I already tried it on another computer and it works just fine. The problem is something with this config. Maybe the graphics card? Mesa Intel® Xe Graphics (TGL GT2).
Can someone please help? I really need this setup working for my studies.
Thank you very much.