My situation: I have a German keyboard which is also fine for English, but I also often write texts in Spanish and use quite a lot of Greek letters and symbols.
Of course, there are tools for selecting special characters and there is also the option to switch keyboard layouts with a mouse click or a hotkey, but I think both are pretty cumbersome solutions.
Instead, I'd rather like to add certain symbols to my keyboard, i.e. modify the existing bindings in a way that missing letters or symbols can be entered without hassle.
After doing some research and trying out several ways to achieve that, the only really practical way to achieve what I wanted was to edit /usr/share/X11/xkb/symbols/XX where in my case XX stands for de.
My keyboard looks like this now (not physically, in reality, there's a number block and some special keys are in slightly different places):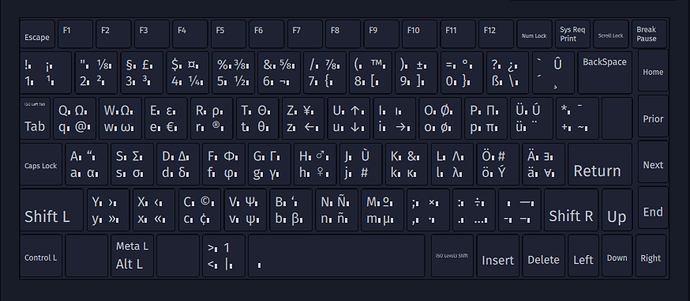 So, now e.g. I have AltRight + n = ñ and Shift + AltRight + n = Ñ
By this way I can now easily type mixed sentences like
"¿Te acordás del café sobre Kurfürstenstraße?" without pulling up some character-select tool or switching the global layout.
Now to my question: Is there an app that makes customizing keyboard layouts simple?
I imagine it like this: When opened, the tool reads the current configuration and offers you the choice to either edit the current layout or to create a new one on base of the current one.
It will then show a map of the keyboard and by entering a key combination it should offer you the possibility to assign an arbitrary letter or symbol from an easy to browse list.
I could surely program such a tool myself, but it would be quite some work and I don't feel like reinventing the wheel.
Finally, my two questions are:
Is there a tool like I describe? I couldn't find one.
If not, would other people have interest in such a thing?