I received an error after installing Eset NOD32 Antivirus Home Edition. It won't update virus database definitions. Saying incorrect username and password… Straight after, I was experiencing an issue during 'Anonymous Start' in Backbox Linux with 'network-manager service' See below error -
' * Stopping network-manager service
ERROR: ld.so: object 'libesets_pac.so' from /etc/ld.so.preload cannot be preloaded (cannot open shared object file): ignored. '
I read the post https://forum.eset.com/topic/7097-log-in-show-ldso-object-libesets_pacso-from-etcldsopreload-cannot-be-preloaded-ignored/
Which said -
' Edit /etc/ld.so.preload as super user and change:
libesets_pac.so
to:
/opt/eset/esets/lib/libesets_pac.so
Save the file and the library will be preloaded for new processes. You should restart the system to make it active for all processes. '
However, even after I changed user to root I could not save the file. It said permission denied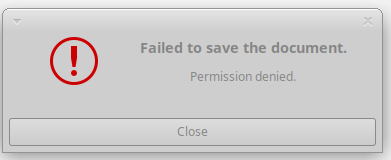 I'm a beginner linux user so any help would be greatly appreciated! This issue is really slowing down/affecting my internet!
Thank you