Hello altogether.
I recently got my hands on an Asus Taichi 21 Ultrabook (see here).
Naturally I installed GNU/Linux (Linux MInt 19.3 in this case).
Everything works fine out of the box, except the touchscreen part (outside lid).
If I close the lid, the "Windows-Logo" outside gets bright for some seconds, then out. Nothing else. Linux Mint falls asleep, as on a "normal" notebook.
When I open the lid again, Linux Mint wakes up just normal.
I started an internet search and found only a few hints that sadly do not deliver any solution:
Launchpad
Askubuntu
The second (touch) display is not recognized by LM at all: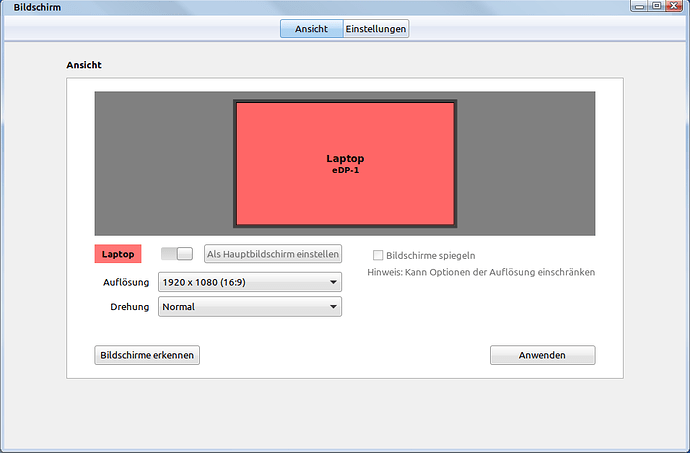 There is a special key (the "Taichi-key") on the keyboard, that switches from inner to outer display under Windows, but has no functionality when operated with GNU/Linux.
Surprisingly I can move the mouse on the inner display when touching the outer display…
Strange. There is just no graphics, but the "touchy" part is functional.
Inxi:
System: Host: TAICHI21 Kernel: 5.3.0-42-generic x86_64 bits: 64 compiler: gcc v: 7.4.0 Desktop: Cinnamon 4.4.8
Distro: Linux Mint 19.3 Tricia base: Ubuntu 18.04 bionic
Machine: Type: Laptop System: ASUSTeK product: TAICHI21 v: 1.0 serial:
Mobo: ASUSTeK model: TAICHI21 v: 1.0 serial: BIOS: American Megatrends v: TAICHI21.211 date: 04/21/2014
Battery: ID-1: BAT0 charge: 9.6 Wh condition: 36.5/37.6 Wh (97%) model: ASUSTeK TJ21-32 status: Discharging
CPU: Topology: Dual Core model: Intel Core i5-3317U bits: 64 type: MT MCP arch: Ivy Bridge rev: 9 L2 cache: 3072 KiB
flags: lm nx pae sse sse2 sse3 sse4_1 sse4_2 ssse3 vmx bogomips: 13569
Speed: 798 MHz min/max: 800/2600 MHz Core speeds (MHz): 1: 798 2: 798 3: 798 4: 798
Graphics: Device-1: Intel 3rd Gen Core processor Graphics vendor: ASUSTeK driver: i915 v: kernel bus ID: 00:02.0
Display: x11 server: X.Org 1.20.5 driver: modesetting unloaded: fbdev,vesa resolution: 1920x1080~60Hz
OpenGL: renderer: Mesa DRI Intel Ivybridge Mobile v: 4.2 Mesa 19.2.8 direct render: Yes
Audio: Device-1: Intel 7 Series/C216 Family High Definition Audio vendor: ASUSTeK driver: snd_hda_intel v: kernel
bus ID: 00:1b.0
Sound Server: ALSA v: k5.3.0-42-generic
Network: Device-1: Intel Centrino Advanced-N 6235 driver: iwlwifi v: kernel port: f040 bus ID: 02:00.0
IF: wlp2s0 state: up mac:
Drives: Local Storage: total: 119.24 GiB used: 8.41 GiB (7.0%)
ID-1: /dev/sda vendor: SanDisk model: SD5SE2128G1002E size: 119.24 GiB
Partition: ID-1: / size: 116.87 GiB used: 8.41 GiB (7.2%) fs: ext4 dev: /dev/sda1
Sensors: System Temperatures: cpu: 49.0 C mobo: N/A
Fan Speeds (RPM): cpu: 2700
Info: Processes: 205 Uptime: 1m Memory: 3.73 GiB used: 612.4 MiB (16.0%) Init: systemd runlevel: 5 Compilers: gcc: 7.5.0
Shell: bash v: 4.4.20 inxi: 3.0.32
dmesg err:
[Mär28 18:55] ACPI Error: Needed type [Reference], found [Integer] 00000000c3461bc3 (20190703/exresop-69)
[ +0,000008] ACPI Error: AE_AML_OPERAND_TYPE, While resolving operands for [Store] (20190703/dswexec-427)
[ +0,000020] ACPI Error: Aborting method _PR.CPU0._PDC due to previous error (AE_AML_OPERAND_TYPE) (20190703/psparse-531)
[ +6,635556] Bluetooth: hci0: unexpected event for opcode 0x0000
I checked the BIOS version too, it's the latest for this model (211)
I also tried with Ubuntu 19.10, just the same.
Downloading Arch 2020.03 at the moment, to try with that, because one mentioned, that ist would work with that.
[Update] With Arch there is no touchscreen available, also…
Maybe someone has a hint to solve this.
Thanks, guys and greetings from germany. Stay healthy!