Are you upgrading or staying with 18.04 ?
Using mostly Linux Mint for the last years, I'll give it a shot again on one of my machines. I haven't decided yet if Ubuntu or Kubuntu…
Just to have a look at it and so I can report to my community, what's it all about (changes, new stuff, etc.).
I had been on Linux Mint for years, but after using Ubuntu 18.04 on my laptop, I am liking it much more than the Linux Mint on my Desktop. I plan on replacing the Linux Mint 19 on my Desktop with Ubuntu 19.04. Learning a few keyboard shortcuts and reducing the size of the default dock really helped me adjust to Ubuntu after all these years. I left Ubuntu at 9.04 and have been on Linux Mint since then.
Just seen that it has been released. Think it might be worthwhile to wait until @abhishek has done his usual excellent reviews and tips on its Foss and waiting a few weeks to see what problems arise, if any. I am sticking with Mint, because it suits me, but I like to check out others to see what is happening out side the Mint world.
I'll check it out in Virtualbox, as I usually do woth most new major distro releases. But will most likely be staying with Manjaro.
19.04 uses a plugin for desktop icons due to Gnome restrictions.
I would advise Ubuntu 18.04 users to stay with 18.04. No need of installing a new version from scratch (upgrading two versions is not pretty).
I too have downloaded Disco Dingo into my VirtualBox and I've got to say I am impressed. I am running 18.04 Bionic Beaver currently mostly because it's an LTS 19.04 is not. But when the next LTS comes out and if it performs as well as 19.04 you know this kid is going to be all over it. Linux ROCKS, thank you Abhshek without you sharing your knowledge I would still be struggling with Micro$oft or playing with Ubuntu 9.04 Jaunty Jackalope.

Thanks for sharing your impressions of it. I am sure that it will encourage others to take a look it at. Also thanks for stating it is not an LTS which is important to understand before upgrading.
As promised, I installed Kubuntu on my SSD (replacing a "test install" of Q4OS).
And it works like a charm.
In comparison with the latter I'm very surprised, that it ouruns it on many levels of usability.
Looking forward to further experience (and the upgrade to the next LTS…

)
After playing around with 19.04 in a VM for a little while, it does seem to run better than the previous major release, however, it's still using a lot of memory (IMO) at just under 1gig at system idle with nothing else running. The other factor I am not too partial of is the lack of out of the box customisation. By adding Gnome tweaks and extensions, you can do a lot more with it, definitely. It just feels very confining in it's default state, given the size of the ISO and resources it's consuming.
Performance is better though, and I will be giving it more time to explore. Just sharing my initial impressions.
18.04 until 19.04…I only do LTS!
i believe the lts cycle is every two years so the next one won't be until 20.04:
No, I will stick with 18.04.2 as I prefer LTS versions. I may try it on Virtualbox though. I can wait another year for the next Ubuntu LTS.
My first impressions after 36 hours with Disco Dingo… Dell Latitude E7250, i7-5600U 16 GB LPDDR3, 500 GB mSATA SSD… did an in place "do-release-upgrade" (had to remove MS SQL Server [yes!] and ODBC drivers first).
Haven't had a recurrence of max CPU on CPU 0 in kernel 5.x - but then I didn't have it happen again in the 2 days preceding using kernel 4.x from 18.10…
Update / upgrade didn't fix my hideous issue of both external monitors blanking frequently throughout the day (and sometimes staying blank) - hooked up over displayport from Dell docking station… Happened on 18.04 and 18.10, and elementary Juno… didn't happen on an identical docking station at home - with two external monitors, the difference being that only one of them was displayport, the other DVI (neither of these monitors on my work desk have DVI) - but hey - I'd still rather tolerate this than having to use Windows 10 all day…
Upgrade did break my install of Synergy 1.10.1 (virtual KVM software)… I kinda need this… Synergy 1.10 uses libssl1.0, but Ubuntu insists on libssl1.1 - so it removes Synergy 1.10.1. Couldn't install the Ubuntu specific DEB file for it either (wrong version of libssl) which I downloaded from Symless (I've paid for a full license) - and couldn't find any older version of synergy in the Disco Dingo repositories… scratching my head…
I gave the x86_64 version that Symless compiles and builds into a DEB for Debian a try, and it worked and installed (I kinda need it to drive the Windows 10 laptop on my desk at work).
Oh - yeah - and it also installs Firefox even if you removed it, and I'd removed it from 18.10 - 'cause I need firefox-esr older version (52) for some crappy "enterprise" software that insists on using ancient NPAPI plugins : java plugin and flash… But firefox-esr still works and does its java and flash crap that I need for this shitty webapp (some crappy HP monitoring suite - looks and feels like something from the 1990's - why can't people just use Nagios to do all this? Oh - yeah that's right, corporate have no faith in any software unless they paid like $100,000 a year for an annual license for "enterprise")…
Apart from things I was hoping would be fixed, that weren't and a couple of little "glitches" (e.g. synergy) - everthing seems to be working… my Checkpoint SNX CLI VPN client still works after the upgrade…
Oh - another glitch that I'm pretty sure wasn't there in 18.10 and 18.04 - the "Settings" applet always runs with a vertical height great than the 768 vertical capability of my laptop (1366x768) - it's f–king annoying! I resize it - tweak something - exit - and it comes back "higher" than 766 pixels - it's okay if I've got external monitors - but if not I have to "alt+spacebar" and select maximize so it fills my laptop monitor… sheeze! No other ubuntu app does this (e.g. not gnome tweak tool, or nautilus - both remember the dimensions you previously resized it to).
And - while I'm here - WHO ELSE HATES the "Settings" applet? I certainly do - things buried a few layers deep - PITA! I vastly prefer the settings applet we had in Unity, and things like elementary and XFCE and Mate still use - one screen - all the icons - instead of burying shit deeper! I do actually need some of the features in "Universal Access" and it's a PITA to find with my crappy eyesight - and having "Screen Display" buried underneath (and at the VERY bottom) "Devices" - who makes these crappy decisions? Did they even test usability?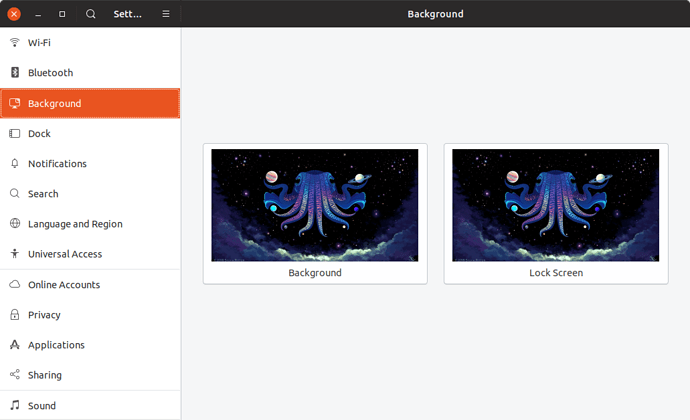 See - at first glance - it's not even obvious there's further items below "Sound" (yeah I'm still using the Cosmic Cuttlefish wallpaper!).
And they also took a bunch of stuff out of it (the Settings applet) - Ubuntu is pretty much un-usable "stock" without a few tweaks here and there with Gnome Tweaks - which has stuff that Ubuntu use to include on the regular Settings applet we got in Unity (and you still get in elementary, XFCE and Mate).
Apart from my gripey-niggles above :
Chrome and Chromium, no issues…
Remmina/RDP no issues…
Sayonara player no issues…
VirtualBox no issues…
Dropbox no issues…
Resilio Sync no issues…
Nautilus no issues - mounts my Samsung Galaxy phone no probs over USB.
MS Visual Studio Code no issues (hardly ever use it - unless I want to edit a shell script or a big chunk of YAML in a gui applet instead of vi/vim).
Thanks for sharing your thoughts and practical usage of it. I hope others take their time to read through what you have written, before leaping into making the changes.