Surprising result here - i.e. the RPi4B with 4 GB running Stretch came out slightly better than the RPi4B with 8 GB of RAM (Ubuntu 21.04 arm64), and was surpised (and somewhat disappointed) to see them look dismal compared to an ancient Dell 7470 laptop… Not surprised to see the Macbook Pro M1 wipe the floor with my relatively new Ryzen 7 3700x, and the Lenovo Laptop with a Ryzen 5 3500u (but kinda disappointed the Lenovo Ryzen isn't that much faster than the Dell running Windows).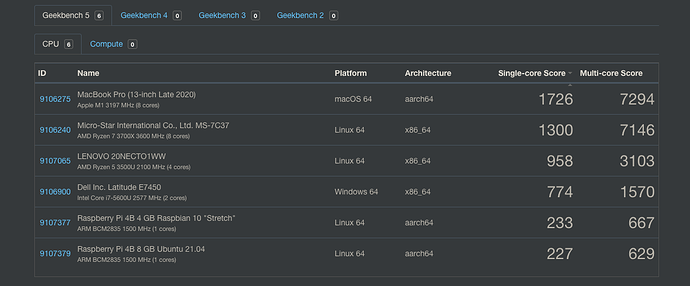 Note : the arm64 linux geekbench version is still in beta (and 5.4.0 - everything else is 5.4.1)
I'm starting to wonder if the lower result for the 8 GB Pi4B (Ubuntu 21.04) could be Ubuntu VS Debian?.
I might have to setup my other 8 GB Pi4 with arm64 stretch…
Kernels :
Pi4B - Stretch : 5.10.17-v8+
Pi4B - Ubuntu 21.04 : 5.11.0-1015-raspi
Ryzen 7 - Ubuntu 20.04 : 5.4.0-80-generic
Ryzen 5 - Ubuntu 21.04 : 5.11.0-25-generic
M1-arm - MacOS Big Sur 11.4 : Darwin Kernel Version 20.6.0
I might see if I can grab geekbench results off my daughter's 2020 Intel Macbook Air, my other daughter's 2020 Intel Mac Mini, and my wife's circa 2012/2013 Intel Macbook Air…
And I guess I could see if I can upload results for my 2018 iPad Pro 12.9"…
Considering things - that Lenovo was only about $50 more than Dell E7470's are going for on e-bay - so much better value…
I don't know how much trust to pay in those results (and it cost me $15 for a geekbench license!) - given my "anecdotal" observation that the Lenovo felt quite "snappy"… I may boot up my Dell 7270 (Ubuntu 20.04 i7 with 8 GB DDR4 RAM [the Dell running Windows only has DDR3 RAM).