Hey @01101111, or is it as you imply the complexity of Gimp that puts you off? Hope I can change this for the better and if allowed can I paste in here some none FOSS photo edit software that runs okay under wine? PhotoPlus from Serif which was cheap enough in it's day at £20. Serif now produce I presume to be first class easy to use; Affinity products. ( admin please delete this post if inappropriate - thanks)
I force myself to use (FOSS) GIMP most of the time even though Shotwell organizer will adjust, crop and rotate or level the horizon – and revert back too! So here goes with a well over exposed rubbish photo. Using Curves drag the left hand corner of the graph to the right and notice how the picture improves greatly before your eyes! Oops, all detail on the blackboard and dark areas have vanished so use the dodge tool to magic this detail back – hey presto; job done - save image. Wanted to mark up photo for you guys with notes, arrows and thought bubble – er not with Gimp! Nor export optimizer either. Still in the near future……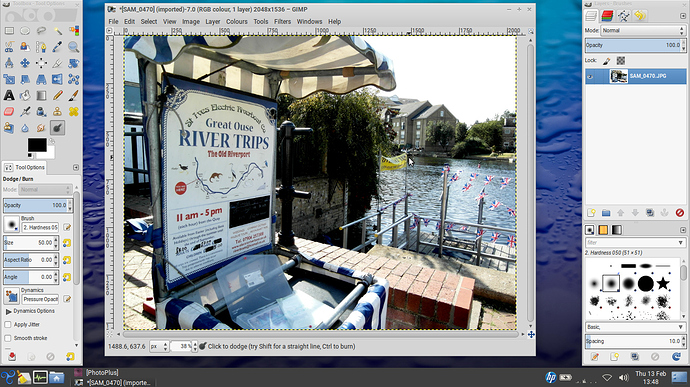 Went quickly with same picture and processes with PhotoPlus and noticed that whilst dodging far more detail was revealed than with Gimp. I was then able to easily mark up with thought bubble, arrows and text and also crop and paste from another picture onto another layer then stretch to size and move into corner – easy peasy – no art or skill required.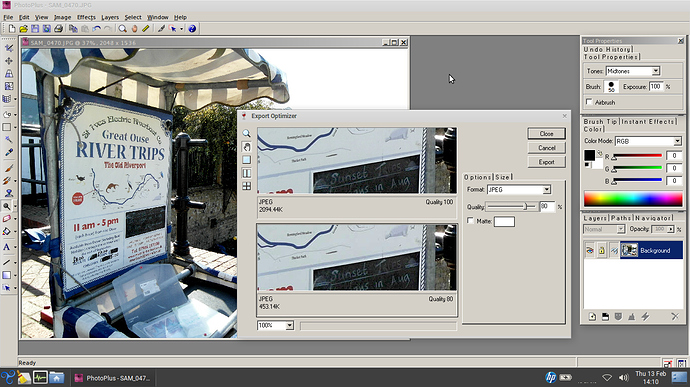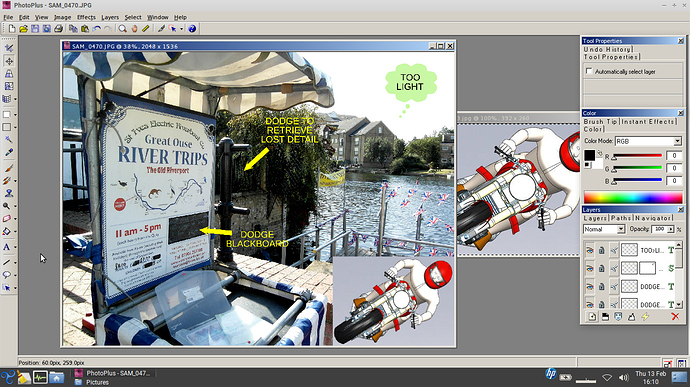 So have a go at simple stuff like curves, dodging, burning and montage. When this becomes easy move forward – remember, you can't break it or the photo: bomb out and have another go.

Yet I am mortified by the thought of partitioning a drive, vm or swap file!