OK - so - in Gnome 42 (e.g. on Ubuntu 22.04, Fedora 36/37, Pop!_OS 22) the application menu item (e.g. superkey and search for screenshot) NEVER launches anything (it does show an icon but clicking on it DOES NOTHING)… It's a PIG of a thing in use-ability and whoever thunk this up needs their arse kicked…
Shift+Ctrl+Alt+R - launches the screen recorder…
And - at least in Pop!_OS - it ALWAYS defaults to f–king SCREENCAST!
On Monday I accidentally left it screencasting on my Thinkpad OVERNIGHT - because I didn't realise it was recording video instead of a still shot…
Now - if you're lucky enough to have a keyboard with a PrtSC button - you're in luck - as the default here is to just capture an image…
But - for whatever diabolical reason, Synergy KVM server (on MacOS) is NOT sending the PrtSc keypress to Synergy clients… My simple guess is that MacOS doesn't recognize that button (I'm using a Lenovo Thinkpad Keyboard II [with Trackpoint]) so it NEVER sends that keystroke to clients…
I kinda HATE setting up keyboard shortcuts - mainly 'cause I have multiple computers, and I'm often rebuiding them, i.e. wiping and starting a fresh install…
So - when I really REALLY need to grab a screenshot - I'm usually doing it via that shellscript I partially plagiarised that uses imagemagick…
TL;DR : Shift+Ctrl+Alt+R - launches the screen recorder…
P.S. I HATE the way Discourse capitalises the first work of a topic! What if I want lower case???
---
I've modified the keyboard shortcuts for screenshots on my Pop!_OS desktop machine :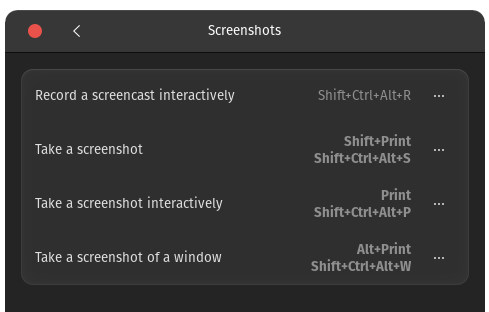 But I HATE doing boring repetitive tasks like that all over the place - if I want that everywhere I have to remember it and do it manually - I LOATHE that level of interactivity

- I wish there was a way to script that… I guess I could try and find it in gconf-editor or dconf-editor (I never know which one to use) and try and script it???
---
Just realised - for consistency - I should make them the same as on MacOS - which I've almost got down to "muscle memory" : so I've added more - I just with there was someway to save this as a file somewhere and replay it (like a "heaven forbid" *.reg file on Windows).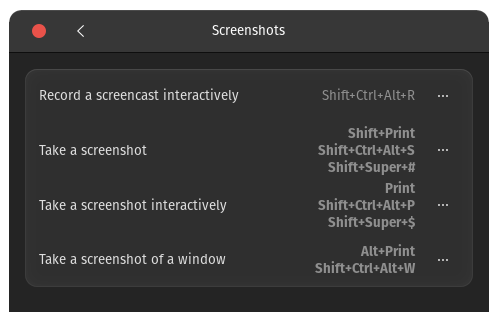 So - I've done that Pop!_OS on my Pi4, and my Pop!_OS desktop machine, but didn't bother on the Pop!_OS Thinkpad - setting Shift+Ctrl+Alt+S and P and W as it has a physical PrtSc key - but I did set the MacOS shortcuts… for consistency…
Now considering setting an additional Copy+Paste shortcut consistent with MacOS
Copy = Super+C
Paste = Super+V
and I have a "special" two key keyboard next to my main keyboard hooked up to my work MacBook, that ONLY does that - left button does BOTH Super+C, and right button does BOTH Super+V
Yeah - defo gonna do that

- IF I CAN EVER FIGURE OUT HOW - because it doesn't seem possible with "out of the box" on Pop!_OS - and it's all really just Ubuntu anyway (add more keybindings as well as Ctrl+C and Ctrl+V)
---
OK Gnome Tweak tool : "Additional Layout Options"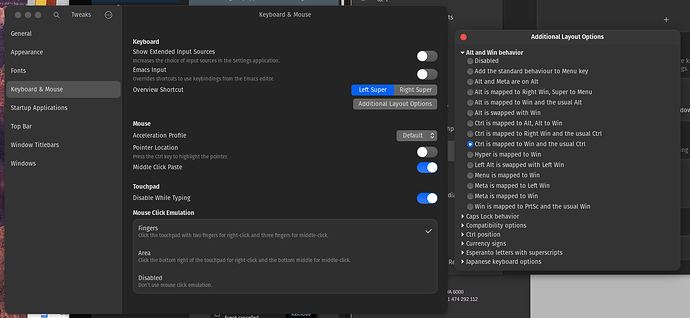 Except - that did BUGGER ALL! Tits on a bull!
---
I need to learn some patience due to my grumpy old man nature and rapidly approaching dotage…
It's NOW working!
i.e. BOTH CTRL and CMD / WIN / Super +C or +V copy or paste, respectively!