Hi there, this is my first post. I've been using Linux Mint for close to a year on a Win 10 host using Virtual Box (current ver 6.1). About a week ago, my Win 10 machine auto-rebooted (curse them) and when I powered my Linux Mint VM back on it appears I've been restored to the Snapshot taken months ago. I don't have any files or applications on the VM that were installed/created since.
I'm pretty sure (but not certain) that when Win 10 rebooted that I had already closed the VM using "save state". So, when I look at the Snapshots directory for my VM I see a saved state from 11/1, that I think would contain everything I need, but when I start the VM it is restoring me to a point from June. The VDI files are after I tried opening the VM and found everything was missing.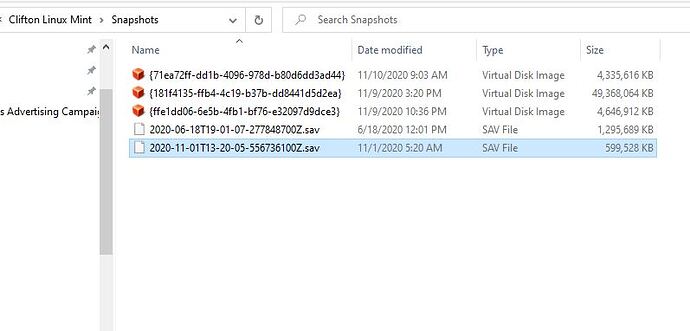 It's possible that I am misremembering and I did not close with "save state".
Can anyone help?