This is my 1st post here and I'm a newbie to Ubuntu.
I'm running a CPU intensive application on my Ubuntu LTS 20.04 that has a 4 core, 8 thread Intel Xeon processor.
Is there an application or Terminal Command that will allow me to adjust the overall maximum processor power state to the CPU?
Reason I ask is the application I'm running pushes the CPU usage to 100%. There is a setting that allows me to limit the number of threads being used. I have set this to a single thread, but because the software still runs at 100%, it overheats and the system shuts down ungracefully. What I need is a way to limit the overall maximum processor state to prevent over heating across all cores & threads.
I'm in need of the equivalent functionality to what Windows provides in it's "Power Options" dialogue box (see below)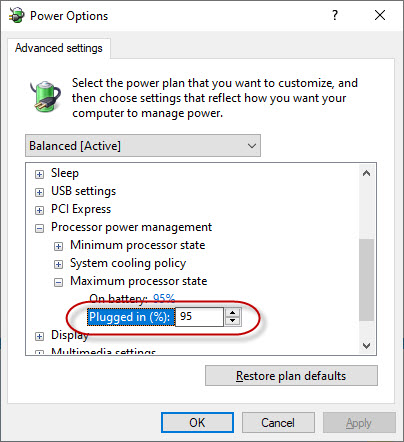 Does anyone have any ideas whether this is possible in Ubuntu? Thanks in advance.