Can you post an example screenshot?
Have been trying with ShareX (unknown to me, but looks pretty decent) and it can't seem to record the preview windows. Will look for another app.
In the meantime, Windows 10 shows a preview of all Edge tabs opened, the file folders and… oddly enough, only one of the 12 opened tabs in Firefox, ha!
Could you then show a screenshot of that behaviour on Windows 10?
Exactly what i'm trying to do.
Never worked with OBS before either, and the 5 first options i've tried thus far aren't working for me (sheesh).
Have never found a way to take screenshots of those preview windows.
Windows preview actually only shows 6 of the more opened tabs on Edge, ha!
CTRL + F search for " How to Record Your Entire Display" and follow the steps. It's very easy. I also use it frequently.
As explained in the article, you just have to add a "Display Capture", which records your entire desktop. Then, you hit the "Start Recording" button and when you are finished showing what you want to show, you hit the same button again, which is now named "Stop Recording".
Okay, I thought you are talking about the Windows 10 feature, which allows you to have multiple virtual desktops, which incorporates previews of currently open windows in the currently selected desktop.
---
It's good that nobody assumed what is happening, before truly knowing what is being talked about. It's good that I insisted on having a screenshot shown to me, to properly assess the situation.
To whoever is reading this and always presuming the problem too early:
Stop presuming, first investigate what the actual issue is!
---
Okay, that was just a random note to whoever might read this, not to you, @danielson.
So, what you are seeing there is just your generic Alt-Tabulator functionality. Nothing special. It just shows previews of currently open windows, so it's easier for the brain to detect which one you want to switch to.
I'm pretty sure, there is a way to have this behaviour replicated on Linux GUI, but it will definitely need a plugin of some sorts, I assume.
I couldn't find anything on explicitly displaying all browser tabs in the Alt + Tabulator preview. You might need to do some extensive research on this.
@Akito - thank you for your words of wisdom (even not directly intended for me!) as well your subsequent lines.
You also indirectly helped me to get acquainted with other apps and "tweaks" i had never used before!

Hello.
About what behavior are we talking here?
On Mint you have (at least) three built-in overviews:
Alt-Tab: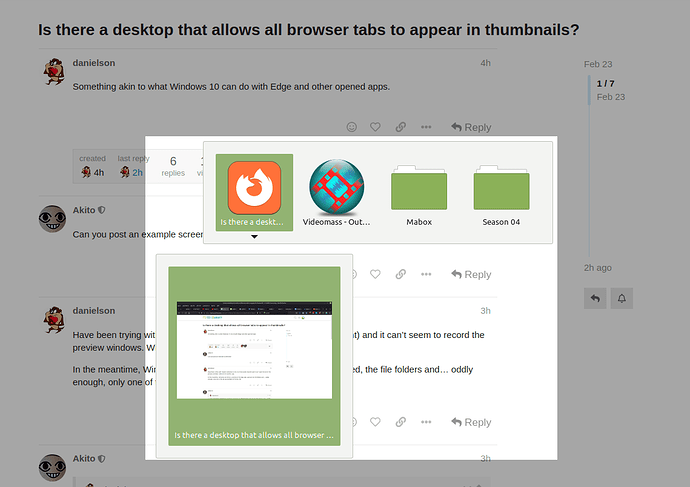 Active corners (one possible action, "Show all workspaces" in my case):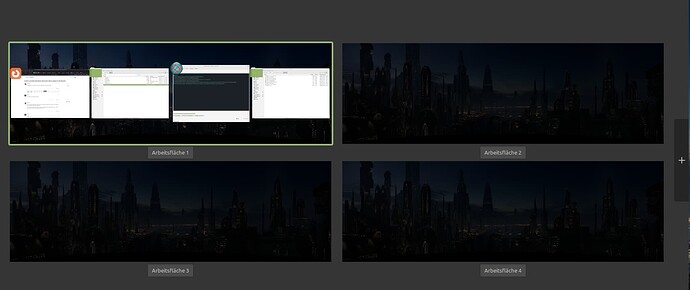 Active corners (another possible action on another corner, "Show all windows" in my case):


Greetings
Fast Edi
I'm pretty sure the last picture shows what should be shown. However, that should also be applied to browser tabs. Which means, each browser tab should show up as a "window" in "Show all windows".
Understood…
OK, dunno how to achieve that, but FF has a function to show all open tabs:
In about:config set the key "browser.ctrlTab.sortByRecentlyUsed" to true.
Then you have all open tabs as preview with "Ctrl + Tab"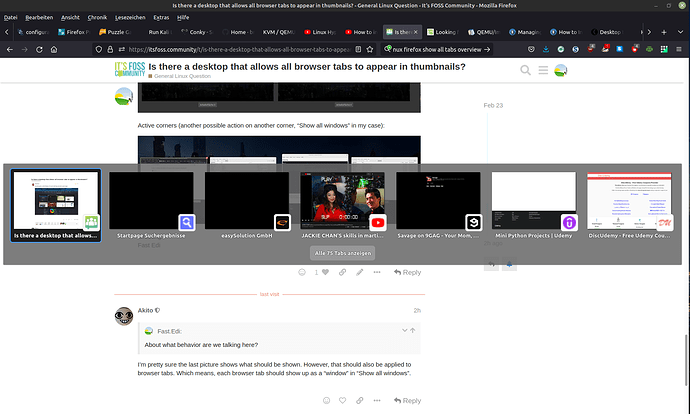 But this is not what you asked for. You want to see all open application windows and all open browser tabs?
Exactly, but it's always good to find another Firefox tweak.

Too bad Firefox open tabs preview (at taskbar) can't be done on Linux as it can in Windows.
So much handier when you spend a lot of your time on the mouse.