So - I'm trying to setup my Ubuntu 22.04 desktop machine to connect to a Pi Zero W as an ethernet gadget… it shows up on my device list just fine (usb0)…
But - if I try to enable that "NIC" in the crummy GUI networkmanager frontend piece of crap, it DISABLES the other one! What a diabolical PIECE OF CRAP :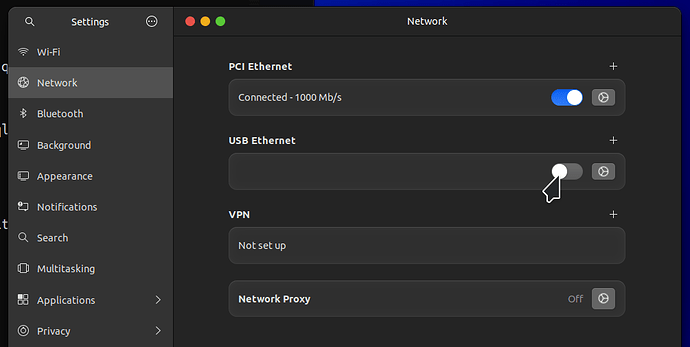 Is this one of those 640K max RAM in MS-DOS things? Nobody will ever need or want multiple ethernet NICs in Ubuntu ???
Here's the work-around I found by accident … DON'T PRESS THAT STUPID F–KING BLUE button!
I had to hit the "+" thing and create profiles :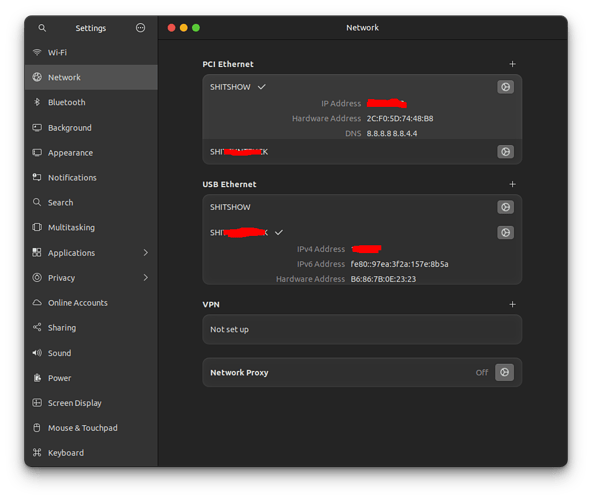 Every time I tried to enable with that STUPID UGLY big BLUE BUTTON, it would disable my real PCIe NIC and drop me off my NFS connection to my NAS (and kill whatever music or video I was streaming / playing over NFS).
DIABOLICAL!
Anyway - at least now I can SSH to my Pi Zero over USB ethernet gadget… But just discovered using USB ethernet gadget disables g_mass_storage gadget

…
This URL seems to indicate I can do both USB storage and ethernet gadget simultaneously, but it's not working for me :