I need your help for the following program:
I already tried it on Mint19 Mate and now I have Mint 20 Cinnamon, but the programs I use and which are in appimage format have no program icons.
I already checked on github and the resources have icons, I just don't know if they are compiled correctly.
I've tried to put the icons in the ~/.icons folder with the same name as the programs but it didn't work.
What I have done is whenever there is a new version I add the icon manually to the program.
Do you know if there is another way to do it? Am I doing something wrong?
I have all in folder ~/AppImages
Example of some programs I use: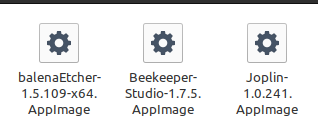 Thanks
Jorge