For those interested.

just reading the title, i thought someone here actually got their hands on one and was pretty excited to hear a first-hand account

all in all an interesting first look at what appears to be a first production run. i particularly enjoyed the inclusion of a terminal in one of the 12 pre-installed apps, hardware kill switches and the off-hand comment something along the lines of "yes, because this is linux, we give you the ability to wipe your root folder by accident".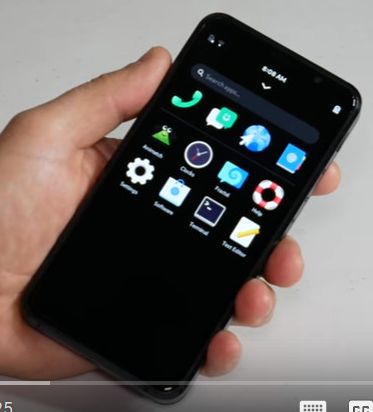 right‽ i feel mildly bamboozled
This is a palm-sized PC. Incredible! It's devoid of anything that would lead one to walking into traffic while thumbing the phone–no social media, no chats, none of the infantile irritations of other people's phones. It's basically a 2003 flip phone with super graphics. And it's only 1500 bucks! I'll keep using my Moto G5 (~$100 now), thanks. But nice demo!
Hey All, there is another video of another expensive phone - Hands On - sorry not quite true but…
https://yewtu.be/watch?v=TWYD38KmnPw
However it may be possible to make a Clone by installing grapheneOS on a Pixel 3a Phone…
https://yewtu.be/watch?v=gQkb0OAOXoc
… and juicing it up with Tor and other apps, Briar, Orbot and F-Droid (via the Guardian Project) routed through the Tor network .
Way to go - Andy

Sorry Guys - hold your horses!
Great news – (from 70 year old pensioner) - I did my first ROM phone flash via ubuntu 16.04 LTS of GrapheneOS without bricking new Pixel 3a! (£234 Ebay Auction)
It's quite shocking to do so much to end up with far, far less. (far less Cr4p)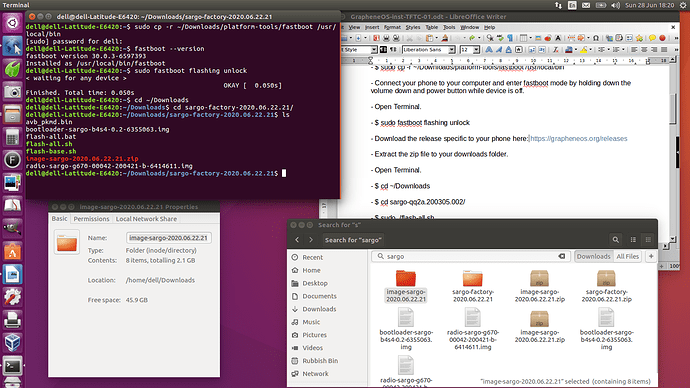 Then LOCK the boot!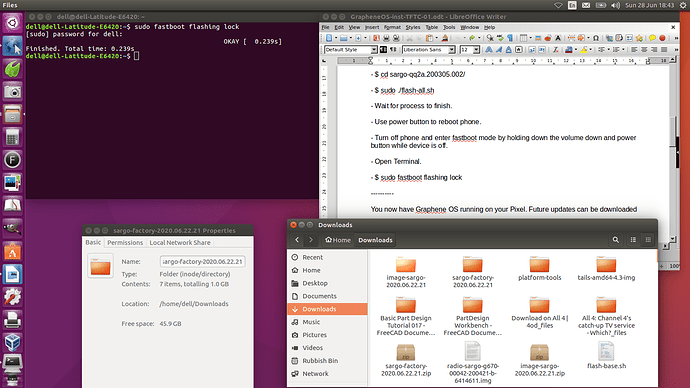 Having only used Terminal to stop Avahi before it was good to be able to copy and paste from a LibreOffice Writer file itself copied and pasted from the instructions under the Yewtube video to eliminate risk of a typo. Best tip was to use tab after typing first few letters to automatically find install file as it changes with each update.
Yes quite easy, if not exhausting and mentally draining with the risk of bricking brand new phone – Phew!
Now need to find out how to transfer contacts and customise phone…
You're all pretty brave people trying out non-stock ROMs, kudos to you sir… my handset is a PRODUCTION device I need to do my job…
I used to run the MarOS ROM on my Google Nexus 5 - it was great because those handsets (from LG) had USB HDMI built in (via Slimport / USB) - and with Maru you could run Android (5 and/or 6) on the handset, and a Debian Jessie with XFCE "chroot" via HDMI (and bluetooth keyboard mouse)…
Right now I cannot afford the risk to switch my current handset (Nokia 4.2 from HMD) to anything non-stock, because I've got multiple customers, and I'm forced to use THREE MFA systems, 1. Microsoft Authendictator, 2. Symantec VIP authendictator and 3 Google Authendictator [sic]…
It's annoying, 'cause it's my own handset that I bought outright, and the only contribution my employer offers is up to $50 a month towards my plan (which only costs $30 - so that's all I get re-imbursed)… I've been tempted recently to tryout a more recent build of Maru on something more modern than the Nexus 5 - i.e. buy a dirt cheap Pixel phone off ebay or something… These days MaruOS leverages off the Lineage OS project - and there are ways and means of getting all that Google Play shite working (so I can then install ALL those F–KING MFA apps - then re-sync/pair them with the services that request them)… Another option would be to carry two handsets - BUT I AM NOT A DRUG DEALER, only DRUG DEALERS carry around two mobile phones (I've seen UK cop shows [reality shows] where a bobby actually says to a suspect "punter" something like "…only drug dealers have two phones…are you a drug dealer?")…
In less than 5 weeks time - I will be on an on-call roster, and will need all those MFA token-ators running so I can stare at them bleary eyed at 3:00 am trying to connect through three nested layers of VPN / Citrix / Remote Desktop gateways to remote desktop Windows servers so I can run PuTTY or mobaXtem to fix some issue on a UNIX or Linux server…

You caught me! Need to hide my teabags full of weed…
Hey @Akito Yo - me too

Better not start another "Me Too" campaign here

I blame that Alien

guy Paul - obviously good


Oh No - its probing time!



Question is will it help our friend - think not…
Getting on great with GrapheneOS Pixel - over two weeks in …
One nice feature is the Night Light which tints the screen amber which makes it easier to look at your screen or read in dim light and may help help you fall asleep more easily.
Hey - staying awake is a daytime problem for pensioners like me

Trouble is I need all that Google Play Store stuff for my job - e.g. Mircosloth and pSYchoMANTEC VIP MFA token apps…
I am seriously considering getting a bargain basement Galaxy 9+ from ebay - so I can run DEX through a HDMI solution, been experimenting with TERMUX app on Android, it's kinda a bit like MobaXterm in Windows, but SO MUCH MORE! And it's DEX aware, so you can run it as a windowed Android app when you're "DEXed" to a HDMI monitor… and you can install "more stuff" inside TERMUX (apparently a full desktop Linux).
Unfortunately Samsung killed Linux on DEX, but it looked like an unwieldy Behemoth anyway, with lotsa gotchas and caveats (and it was never enticing enough to convince to fork out $1300-1500 for a Note 9 or 10! Considering my Nokia 4.2 cost me $249)… All I want out of DEX is a terminal, which TERMUX does admirably (and more! e.g. just tried to run tmux, but it's not installed, but it tells me that "pkg install tmux" will get it for me - and hey presto - I've now got tmux inside a virtual Linux environment on my Android phone).
I've pre-ordered a NextDock 2, due in September, ostensibly to use with my Pi4 8 GB, but I'd like to also use it with a phone handset that has all the shit in need already on it like (from Google Play Store): Citrix client, RDP Client, VPN solutions from multiple vendors (Chuckpoint, Juniper, OpenVPN [which I have running as a server on my RPi3]), MFA/2FA apps etc - but also has HDMI or DisplayPort over USB (micro or C) support "in hardware"…
My Nokia 4.2 has none of these things (i.e. no HDMI or anything over any USB connector or adaptor) - plus it's got a tiny screen compared to the phablet size smartphones from Apple and Samsung…
When Google switched from Nexus to Pixel, they dropped all things like Slimport support (i.e. HDMI over USB)… And even though Android 10 supposedly has "desktop mode" features, they're not anywhere near ready for primetime like DEX or Huawei's "EMUI"…
MaruOS looks promising (I ran it for a few years on my Nexus 5) - but when running it on Google's Pixel handsets, the only way to HDMI it (the chrooted Debian XFCE desktop) is to cast to a Chromecast - sounds like a kludge to me…
Interesting post

Not aware of NextDock laptop phone converter before, Maru OS or kludge neither. Seems to be as UBPorts Nexus 5 development…
https://ubports.com/devices/nexus5-convergence
The boundaries between phones, laptops, tablets, desk-tops are getting ever more blurred.