Was delivered about 3 hours ago… dithered about at first…
AMD Ryzen 5 3500U, Vega 8 Graphics (via AMD APU), 256 GB NVMe M2
stripped 2 x 8 GB DDR4 outta my Dell 7270 and installed 'em
booted Ubuntu 20.04 off USB - pretty snappy…
Was in 2 minds - do I install now? Or wait to get my 1 TB SSD delivered… So I ordered a USB C NVMe adaptor along with it - so I can then clone onto the 1 TB (will probably just use "dd" then gparted to resize the new partition on the 1 TB
installed Ubuntu 20.04 to the NVMe - and it boots FAST, faster than my AMD desktop system even (Ryzen 7, 40 GB DDR4, 1 TB NVMe)! It's allocated a fair chunk of my 16 GB to the GPU/APU (see below - looks to be using 2 GB+ for the GPU/APU).
fully updated, work VPN client installed - cooking with gas! And the open source AMD drivers seem less "glitchy" than the Propietary NVidia ones… I'm half tempted to get an AMD GPU for my desktop machine now @Akito - can you recommend any specific AMD / ATI / Radio GPU (just talking about GPU chipset - not who makes the PCIe card ) for Linux desktop - preferably similar specs to my GTX1650 [4GB DDR5 VRAM]?
free -m
              total        used        free      shared  buff/cache   available
Mem:          13976        2809         165          26       11001       10819
Swap:          2047          12        2035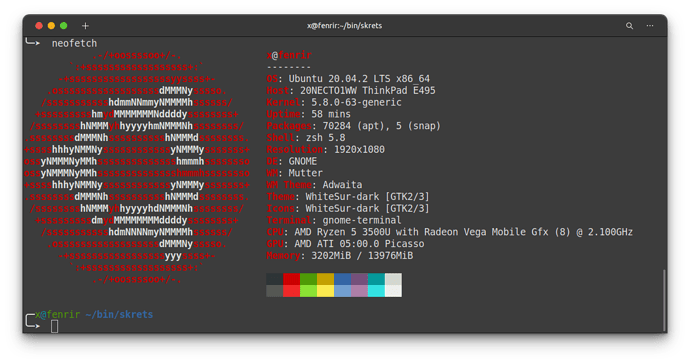 Checked the BIOS - the max you can allocate to the APU/GPU is 2 GB, and it was set at that - that's fine I reckon - if I do play any games, I'll expect non-gaming laptop performance and ramp down the graphics settings accordingly.
Next payday I'll probably order 2 x 16 DDR4 for it - compromise between cheapest and fastest - probably $240 (AUD)?