Here's one thing that gets my goat, how Gnome 3.x lets you drag a window so that its title bar is UNDER the top "Panel" - i.e. the top "bar" with the notification area… IT lets you do that - BUT it will no longer let you grab it again OUT of that bar - because it's UNDER it and the window controls and title bar of that application window are UNDER the top bar.
How f–king lame is that? Yeah! Lucky I still remember ALT+SPACEBAR to get window control again - but - HOW did Canonical (and Gnome's) development team let this through? I guess if I could be arsed, I could log a bug report?
Any Gnome 4.x users here? Does this still happen?
I'm guessing the reason it happens to me, as I have a 2nd monitor on TOP of my main 32", and in the displays arrangement, I also have it "virtually".
I just tried it here at work (popped into the office for a change) - and yeah :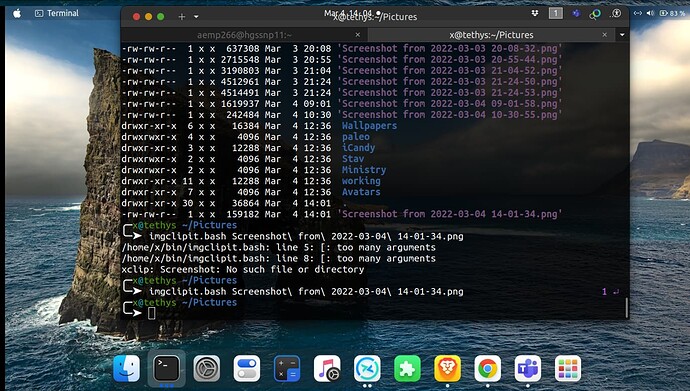 How dumb is that - letting me do that… There's just enough left there for me to grab the window title bar, but not always with apps that have shorter height titlebars (
and then I have to break out the "ALT+Spacebar" trick
).
BTW - that's not MacOS, or elementary - it's pretty "stock" Gnome 3.x desktop on Ubuntu 20.04…
While I'm there - that screenshot shows another annoyance, where my script (imgclipit.bash - it uses "xclip" to copy images into the clipboard) barfs on filenames with spaces in them - I'm constantly having to add this to my scripts :
IFS=$'\n'
I guess I should go ahead and add that to my profile… PITA