I have been working for some time on setting up an install of the Lumina Desktop Environment in Void Linux.
The Lumina Dersktop is an OS-independent DTE which can be installed in BSD, LInux or OS-X. It was developed for PC-BSD and was used in TrueOS and Project Trident.
There is a lumina Website
If you want to see something refreshingly different, have a look at my article … go to
and click on the file voidlumina.pdf
it may display immediately, or you may have to click download
If you like what you see there, try an install… it is in the repos of most Linux Distros including Debian, Arch, PCLinuxOS, Gentoo, Void, Nixos,… @d4andl4 has tried a Gentoo install, it is not all that difficult.
The default desktop looks as follows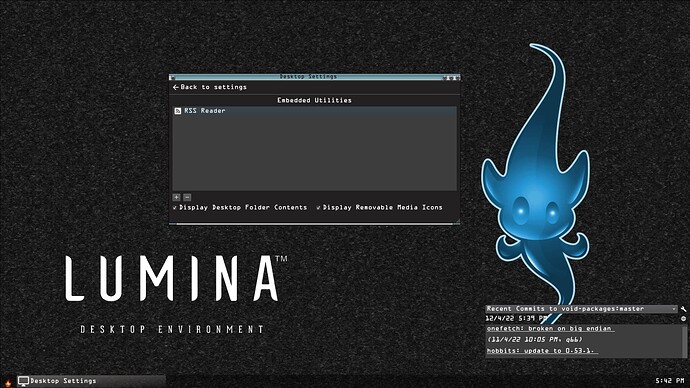 The above shot has the desktop settings menu in centre screen , the system tray at the bottom, and an RSS feed embedded widget at the lower right. Yes Lumina has embedded widgets, just like KDE plasmoids.
If you dont like the battleship grey , Lumina is easily configured. Here is a shot with a more colorful layout and the panels reorganised to look like Xfce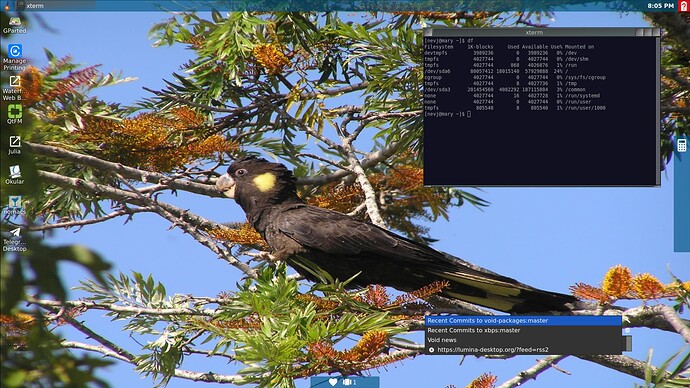 You can see system tray is now at the top, there is a panel at the centre bottom which has favourites and the load monitor, and there is a third panel at the right which is a popup and contains a caclulator widget. There are icons for apps on the left. The background is unique Australian scene, Black Cockatoo on a Silky Oak tree. There is an Xterm window.
So yes, Lumina is configurable and you can make it look like any other desktop. Its other attributes are, it uses Qt5, and it has modern features like embedding. Its cons are it is incomplete ( some of its inbuilt apps are clunky), it is not an 'out of the box' install, and it is unfamiliar.
If you have a look at my document you will see what is involved in a Lumina install, and will also get an introduction to Void Linux, and see the Waterfox Browser.
I would love to hear some feedback. I have not finished with this project yet.
Regards
Neville